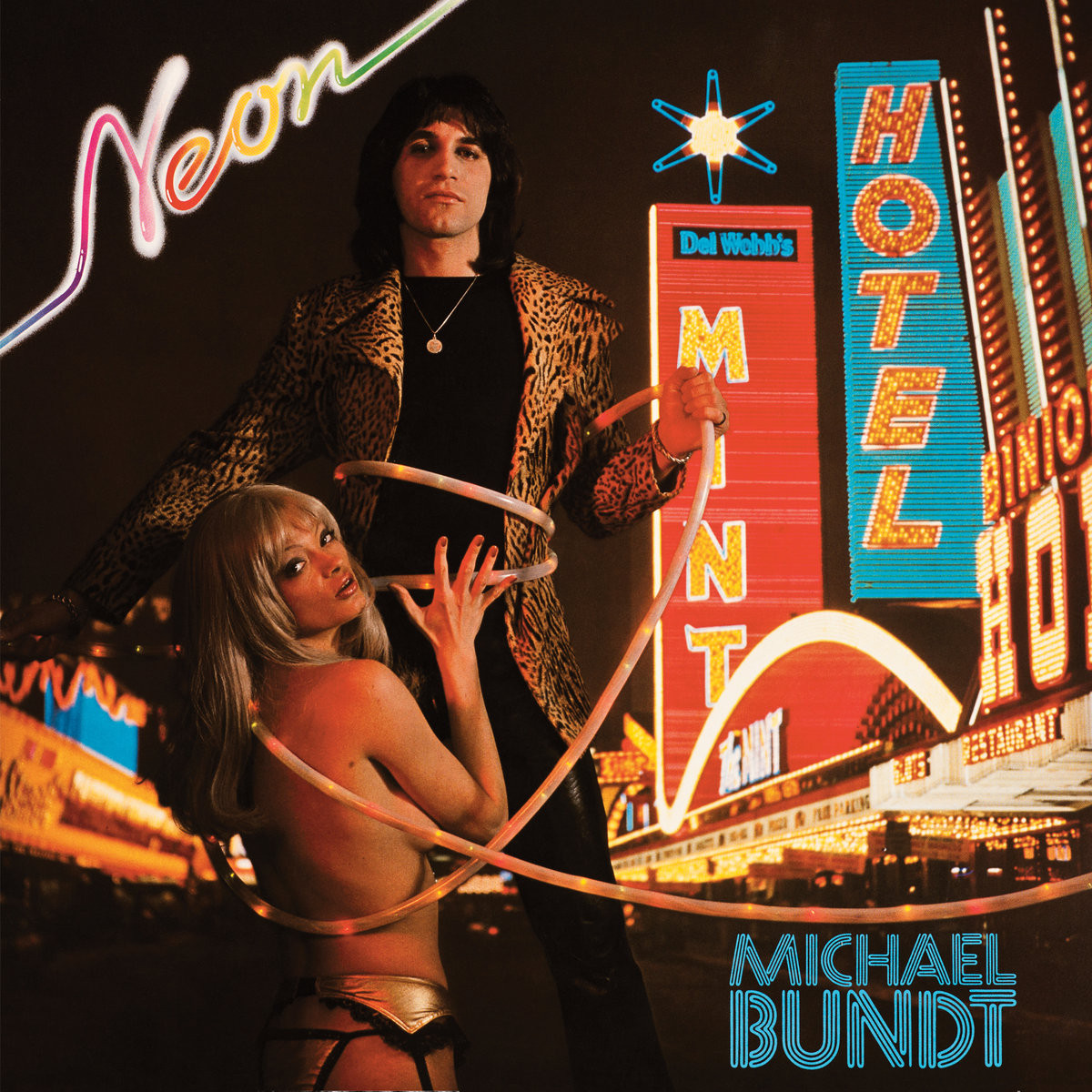 A capa de
Neon
, segundo álbum do alemão Michael Bundt é, literalmente, de fugir. Algures entre o futurismo
kitsch
e o erotismo azeiteiro, o invólucro da obra não deixa antever bons augúrios para a música que encerra. Quem o levou para casa de forma incauta e sem pré-aviso no ano de 1979, esperando uma soul máscula
a la
Tom Jones ou uma histérica dose de hard rock, viu certamente os seus intentos defraudados.
A capa de
Neon
é, efetivamente, o pior elemento do disco, que constitui uma peça curiosa e de elevado interesse arqueológico no que toca à era dourada da música electrónica em geral e germânica em particular. O que está lá dentro poderia funcionar perfeitamente como banda-sonora para um
Blade Runner
dirigido por Russ Meyer. Música nocturna e lânguida, urbana e lasciva, rítmica mas pouco convidativa à dança, preferindo abrir caminhos para a imaginação e a introspecção. O tema-título é disso prova, abrindo o álbum de forma panorâmica, porém minimalista, com a sua melodia expansiva a penetrar lentamente cada poro auditivo. Michael Bundt leva a cabo uma récita sobre as luzes da cidade, a sua frieza, o seu fascínio, os vícios que disfarçam. A entrega lembra John Cale. O que é sempre bom. Flashes de guitarra eléctrica e saxofone invadem a camada minimal do tema, como interlúdios luminosos sobre a toada penumbrenta.
O registo dolente e sombrio prossegue com
This Beautiful Ray Gun
, modulado por trechos que parecem saídos de um qualquer
lobby
de hotel de terceira categoria.
Future Street No. 7
assemelha-se a um funk em câmara lenta, esquelético e frio na camada electrónica que o cobre, mas envolvente na rendição vocal de Bundt. Em conjunto com o tema-título é a peça que mais aguentou a erosão do tempo, mantendo intacta a sua traça futurista.
Flying in a Thunderstorm
soa quase a elegia, exalando uma inesperada e plástica melancolia. A atmosfera glacial é somente interrompida por intermitentes arpejos de teclas e flauta, que acabam por carregar o tema até à sua conclusão.
Death of a Friend
é uma estranha e tétrica catarse, assente em guitarra e piano rotativos, que coloca Michael Bundt novamente em plano recitativo e parece saída de um conto de Edgar Allan Poe. Pelo meio ficam dois exercícios de menor intensidade, mas que contribuem igualmente para a coesa desconexão de
Neon
: o movimento em suspensão de
Welcome the Astral Dancer
e
Midnight Orange Juice
, breve exercício de electrónica cósmica vergastada por guitarra. Em suma, um curioso artefacto musical, que merece estima e contida devoção.