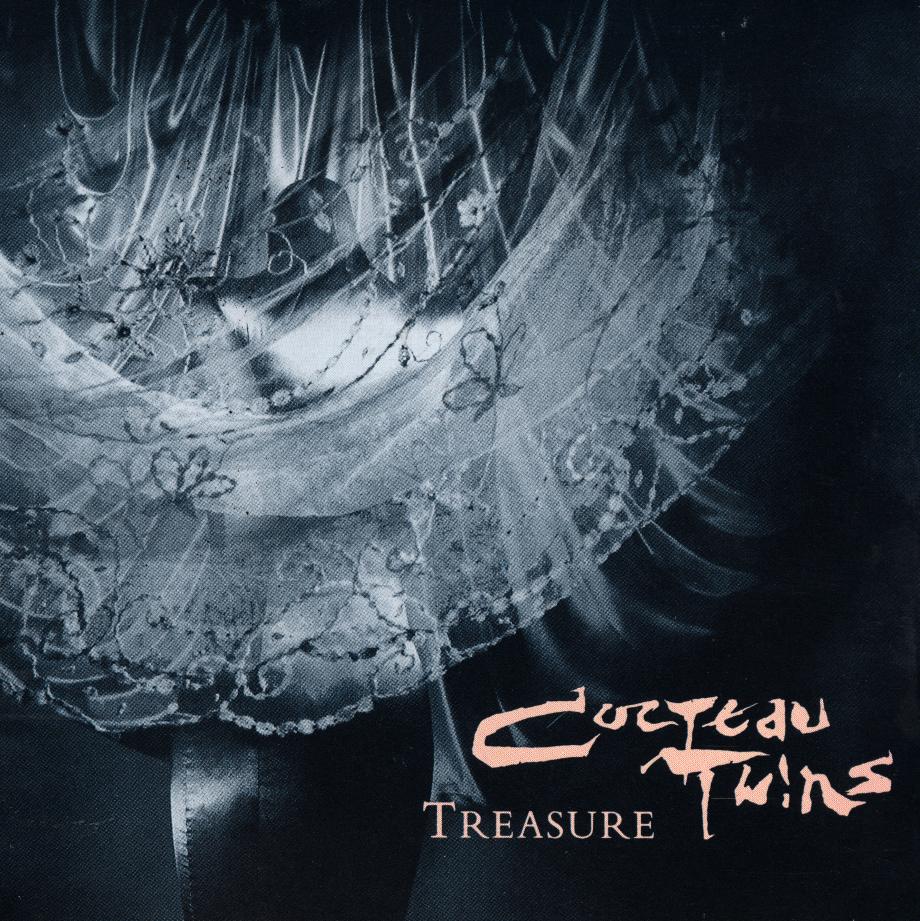 Em 1984, por entre dejectos e eflúvios de música pastilha elástica, foi enterrado um tesouro. Ao terceiro álbum, os Cocteau Twins (agora expandidos a trio com a inclusão do baixista Simon Raymonde) roubaram um pedaço de céu para nos oferecer.
Garlands
, o primeiro álbum, foi um produto de influências, um disco escuro e denso, esforçado mas sem conseguir afastar os fantasmas ominosos de Siouxsie & The Banshees ou dos Cure da época. Um ano depois, em 1983, chega
Head Over Heels,
obra que oscila entre a filigrana e o tonitruante. Começa a ser impossível acreditar que a voz de Elisabeth Fraser é real e a guitarra de Robin Guthrie embala-nos pela bruma montados em algodão doce. Começa a ser incubada alguma da música mais bela que este planeta já ouviu. Mas é o mesmérico
Treasure
que arrebata em definitivo. Simon Raymonde prova ser um elemento catalisador na expansão onírica do som dos Cocteau Twins. Caímos, deliciosamente prostrados, em levitantes e envolventes lençóis de som. As ambiências, etéreas e irreais, penetram com delicadeza as áreas de prazer do nosso cérebro. Ainda perdura algum do rigor gótico, das atmosferas austeras que encetaram um saudável concubinato com a luz e a cor na fabulosa série de EP's que antecede
Treasure
(
Sunburst and Snowblind,
Pearly-Dewdrops' Drops
,
The Spanglemaker
).
Beatrix
e
Persephone
são exemplos dessa junção, doces melodias cobertas de nuvens negras, arcaísmos futuristas.
Lorelei
é a
pop
perfeita do mundo dos anjos, com Liz Fraser nos píncaros das acrobacias espectrais da sua voz. Não é à toa que um extasiado crítico britânico chegou a apelidá-la "the voice of God"...
Todas as canções têm nomes de pessoas, como se fossem elas o verdadeiro tesouro, e cada uma a sua própria individualidade. A viagem pelo sonho atravessa diferentes territórios, do mutismo minimal de
Otterley
ao rebentamento das ondas cintilantes de
Donimo
. Robin Guthrie transforma a guitarra numa varinha de condão, distorcendo-a e adornando-a de efeitos espantosos. Não importa a técnica, apenas a sensação inflingida.
Aloysius
,
Cicely
,
Ivo
(esta última dedicada ao patrão da 4AD, Ivo Watts-Russell), todas são pequenas delícias num jardim edénico. E o auge acontece em
Pandora
, onde a beatitude sonial entra em simbiose com a sensualidade carnal, numa peça sublime que tanto pode ser veículo de paixão como de meditação. Não percebemos patavina do que Fraser está a cantar, mas isso é de somenos importância.
Treasure
é um disco do coração e não da razão, a mais equilibrada e perfeita prova das capacidades dos Cocteau Twins. Com tantos discos a roçar a perfeição, é discutível se esta é ou não a obra-prima da banda britânica. Foi a primeira que ouvi e continua a ser a minha preferida. O resto é como discutir o sexo dos anjos...