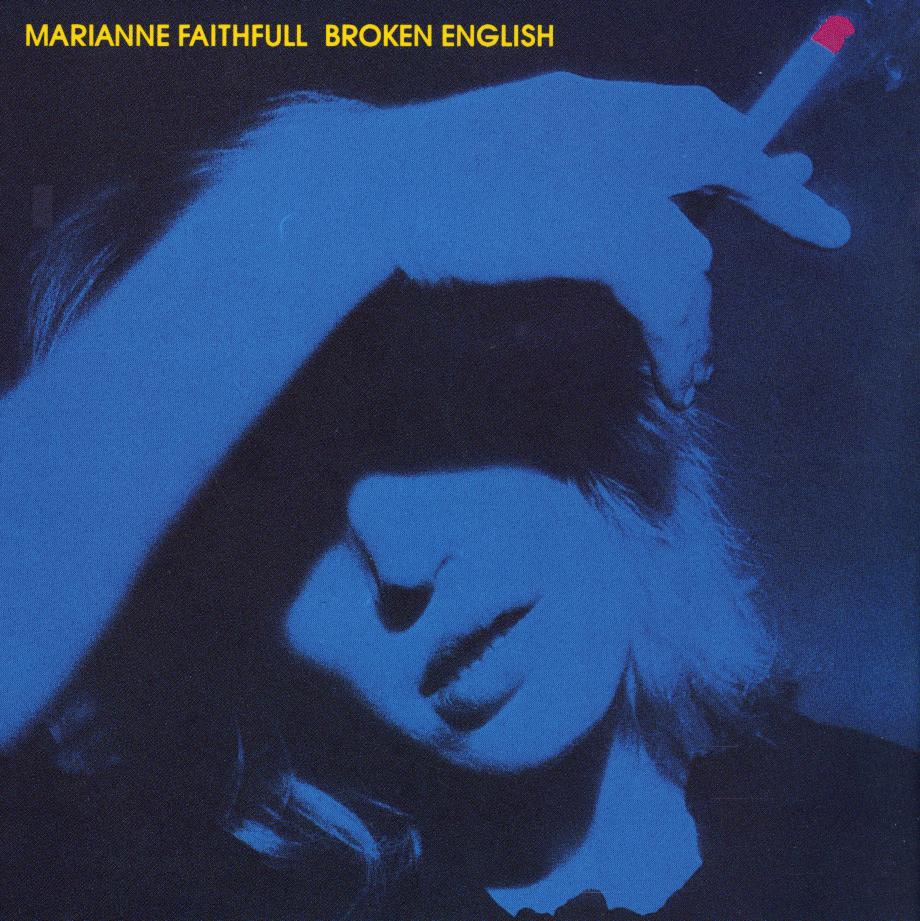 Em 1979, Marianne Faithfull era um anjo caído nos Infernos. Uma diva esfarrapada, imersa em drogas e álcool, a viver num pardieiro londrino sem água quente nem luz eléctrica. Longe iam os tempos do diáfano rosto de menina que cantava
As Tears Go By
e ostentava Mick Jagger como namorado. Presa nas malhas dos excessos, vagueando de homem para homem (ou de Rolling Stone para Rolling Stone...), Marianne tropeçou e caiu num poço negro e sem fundo. A premente influência sobre Jagger & Richards empalideceu com o passar do tempo e os
glamourosos
anos 60 deram lugar a uma lúgubre década de 70. Por entre tentativas de suicídio, a crescente espiral do vício e a excomunhão pelo Vaticano, a cantora londrina morreu como fada e ressuscitou como bruxa.
Foi neste cenário decadente que surgiu
Broken English
. Após medianas incursões pela
folk
e a
country
, surge esta curva perigosa e acentuada pelos caminhos do
punk
e da explosão da
New Wave.
Broken English
é uma lavagem de roupa suja e uma lavagem da alma. Intenso e cortante, não permite que ninguém saia ileso das suas crónicas dolorosas e amargas. Os efeitos nefastos da religião dão visados no elegíaco
Guilt
, enquanto que
Witches' Song
remete de imediato para a sua condenação pela Igreja como bruxa. O eterno presente do drogado reflecte-se em
What's The Hurry?
e o
disco punk
sombrio do magnífico tema-título inspira-se no terrorismo.
Marianne Faithfull participou apenas em três das composições do disco, todas elas com a parceria do guitarrista Barry Reynolds. A aposta nas versões é extremamente bem-sucedida em
Working Class Hero
, de John Lennon,
e
The Ballad of Lucy Jordan
, de Shel Silverstein. A primeira é um gélido retrato da classe trabalhadora, quase gótico na sua austeridade. E, por falar em austeridade, nada como ouvi-lo enquanto se lê o recente acordo de Concertação Social. A segunda bifurca-se numa história que tanto pode ser a de uma dona de casa desesperada como a de uma louca suicida. Banha-se em electrónica etérea e esparsa.
Why d'Ya Do It?
leva ao extremo o clima desencantado do álbum. Relato de traição, é o espelho límpido da Marianne endemoniada, cuspindo bílis e rimas vernáculas com uma voz de corvo que outrora foi rouxinol. É a voz de uma mulher num mundo despido de qualquer romantismo. E a desgraça dela foi, uma vez mais, o nosso folguedo...