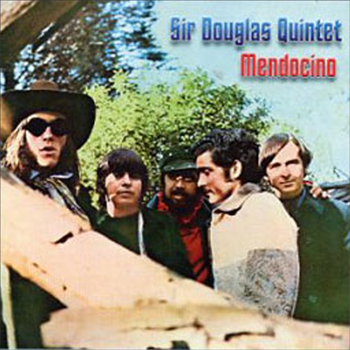 Feel good music. Esta é a melhor definição para a sonoridade aprazível dos Sir Douglas Quintet. Activos durante mais de 30 anos, praticamente até à morte do líder Doug Sahm em 1999, estes texanos foram mestres no corte e costura de diversos estilos musicais americanos, na criação de patchworks sonoros onde blues, country, tejano e rock recebem tratamento VIP. Mendocino, segundo fôlego da banda lançado em 1969, é o exemplo perfeito do seu aveludado musical, sempre sedutor mas nunca boçal.
A música de
Mendocino
agarra-se com unhas e dentes às suas raízes, possui uma ruralidade
vintage
, um orgulhoso despretenciosismo. É música feita para nos dar prazer, especialmente em tempos de Verão. É seriamente aconselhável seguir as palavras de Shawn Sahm, filho de Doug Sahm, escritas propositadamente para a reedição do disco: "
... kick back, get something cool to drink and prepare yourself for a Tex Mex trip like no other".
A premissa cumpre-se logo no primeiro tema.
Mendocino
empurra-nos para uma qualquer festarola numa qualquer terreola da fronteira entre o México e as Américas. Órgão periclitante e roufenho, ritmo a direito e uma melodia esplendidamente desavergonhada. Canção para cantar alto, bater os pés na terra e esvaziar
shots
de
tequila.
A extroversão pulula pelo álbum, em temas tão espontâneos que parece terem sido compostos e gravados de uma assentada.
She's about a Mover
e
I Wanna Be Your Mama Again
fazem-nos sentir na sombra amena de um
tesco
, abrigados do sol impiedoso do deserto.
And It Didn't Even Bring Me Down
coloca
mariachis
a soar como um disco da Stax e a casa da
country
abre as janelas para deixar entrar uma lufada de ar fresco texano em
If You Really Want Me to I'll Go.
Para além do clássico tema-título, as grandes composições do álbum
são as que fluem lentamente, como um calmo entardecer. Eis o belíssimo
I don't Want
, o arrastamento dolente de
At the Crossroads
e a majestade sulista de
Texas Me.
Reeditado em 2002,
Mendocino
acrescentou mais seis temas à colheita original. Por entre as costumeiras versões alternativas, destacam-se as revelações
The Homecoming
e a sentimental
Sunday Sunny Mill Valley Groove Day
. Uma versão do filme
Aquele Querido Mês de Agosto
rodada no Texas teria certamente a banda-sonora assegurada pelos Sir Douglas Quintet. E isto é um elogio.
Tex Mex style...